Type
extension + renovation
Location
Plateau - Mont-Royal, Montréal
Size
300+1300ft2 / 28+120m2
Date
completed 2020 
Photos
Adrien Williams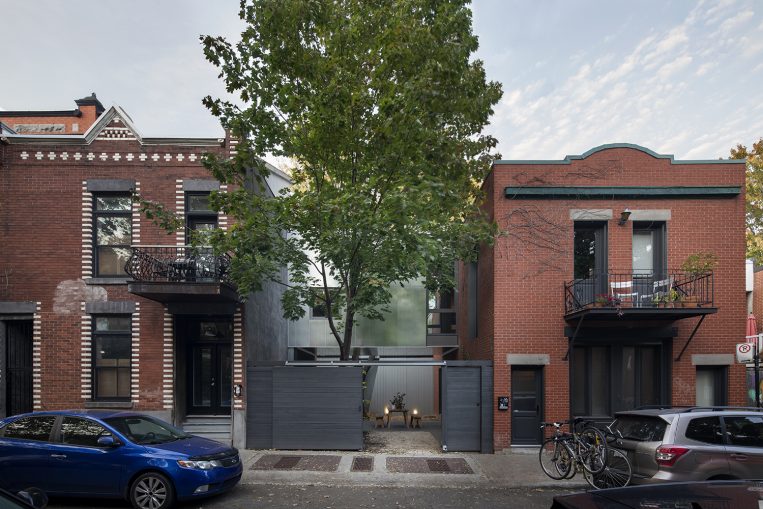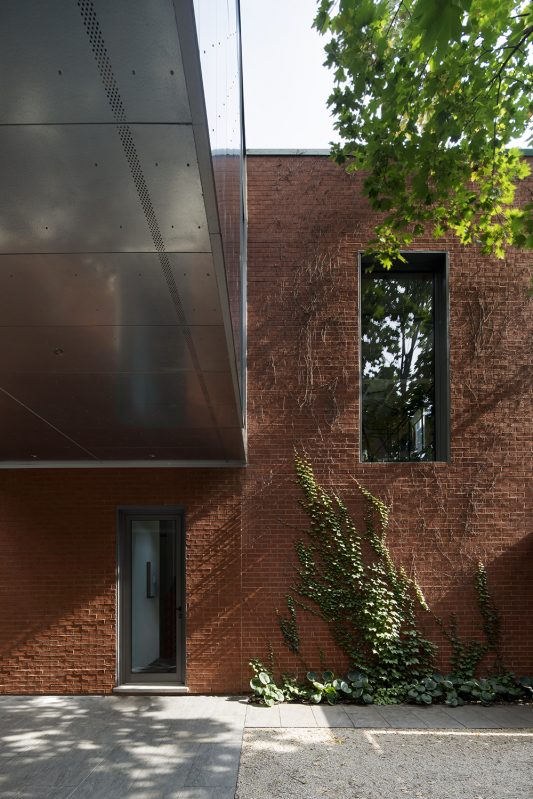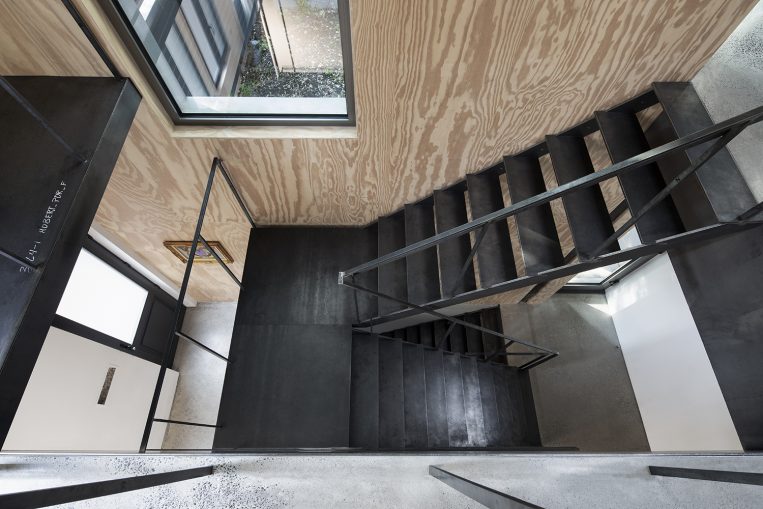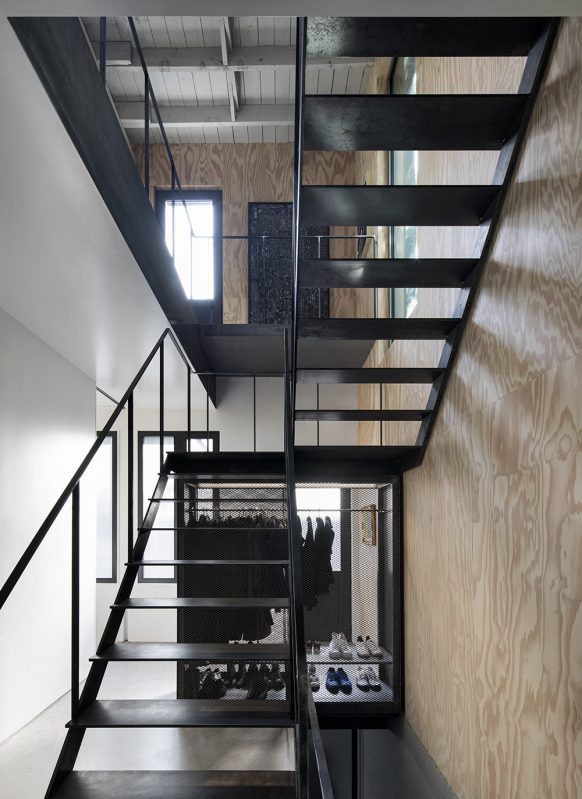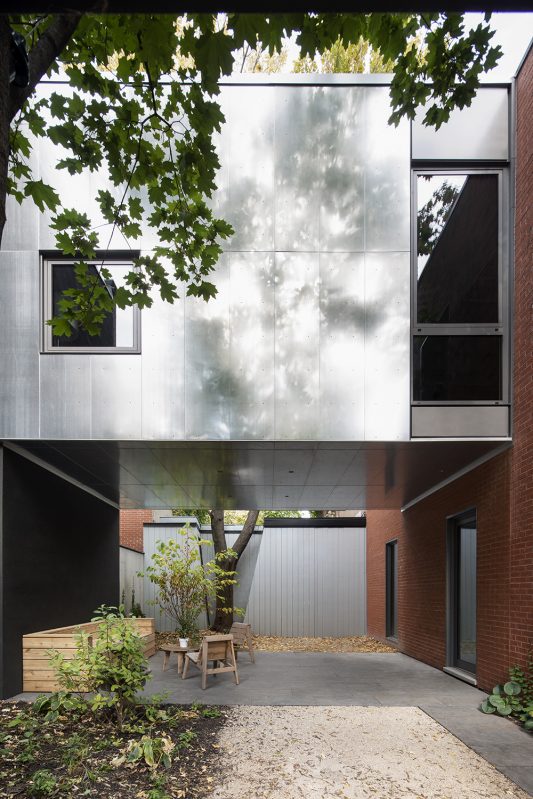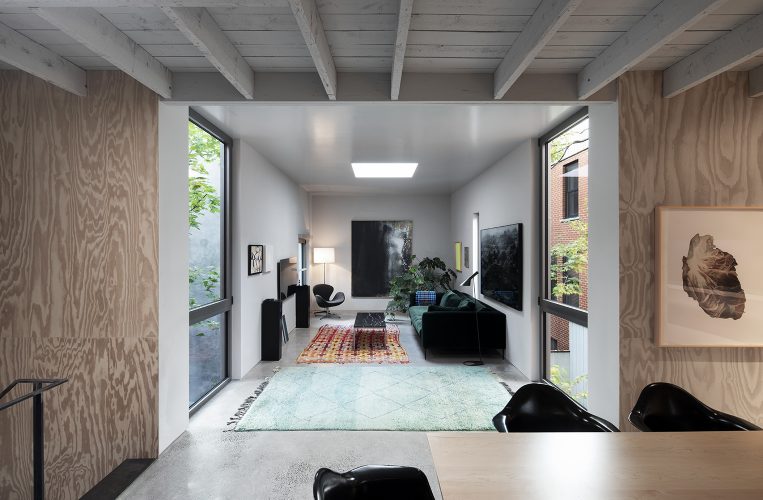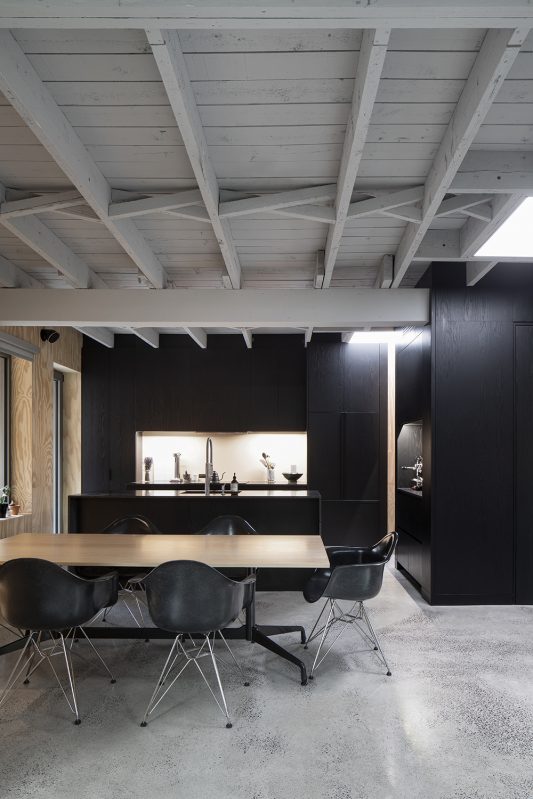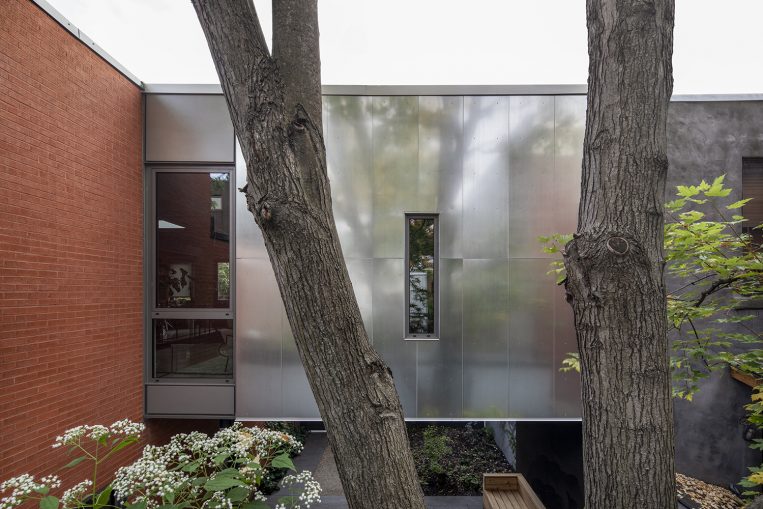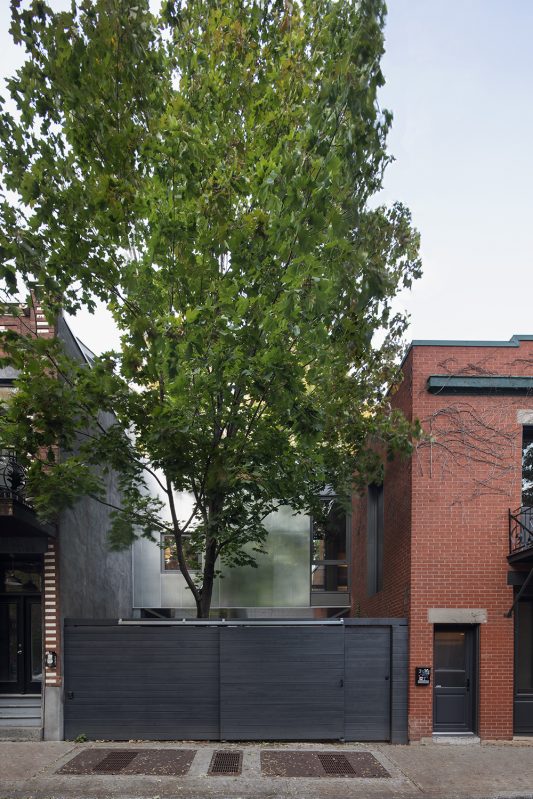 This small residential extension challenged us to squeeze as much home as possible out of a centenary carriage house in Montréal's sought-after Plateau neighbourhood. It also challenged us to preserve the building's only exterior space - a small side yard. The floating extension on the second floor protects this precious outdoor space while adding the additional breathing room the young family required.
Clad in flat galvanised panels the floating volume reflects maximum light into the garden below, endowing the extension with a feeling of lightness. The reflective material and modern geometry contrasts against the solid masonry and preserved detailing of the old structure. It also reduces the visual impact on adjacent houses situated in tight quarters, showcasing an abstract palette of sky and foliage. Strategically placed openings endow the living spaces with privacy while full height windows bring much needed light into the house via transitional and open circulation spaces.
Inside, the renovation celebrates the natural qualities of the utilitarian structure. Raw materials, rich textures and minimal detailing play off softer modern furnishings and the family's art collection. Plywood plays the role of wallpaper and steel structure imitates wood joinery, giving the project an intemporal quality where mid-century modern meets construction site in the stripped-down Victorian shell.
Située au cœur du Plateau, cette petite extension et rénovation tire le maximum d'une ancien étable/remise à voitures centenaire tout en préservant le seul espace extérieur du terrain - une petite cour latérale. L'extension flottante au deuxième étage respect ce précieux espace extérieur tout en ajoutant la superficie supplémentaire dont la jeune famille avait besoin.
Revêtu de panneaux plats galvanisés, le volume flottant reflète la lumière conférant à l'extension une sensation de légèreté et apporte la lumière au jardin en dessous. Il réduit également l'impact visuel sur les maisons adjacentes en étroite proximité.
L'extension lisse et réfléchissante contraste avec la maçonnerie et les détails préservés de l'ancienne structure. Des ouvertures stratégiquement placées dans son volume confèrent une intimité aux espaces de vie, tandis que des fenêtres pleine hauteur apportent la lumière dont la maison a tant besoin par le biais d'espaces de circulation ouverts.
À l'intérieur, la rénovation célèbre les qualités naturelles de la structure utilitaire existante. Les matériaux bruts, les riches textures et les détails épurés mettent en valeur le mobilier moderne et la collection d'art de la famille. Le revêtement mural en contreplaqué joue le rôle de papier peint et la structure en acier imite la menuiserie en bois, conférant au projet une qualité intemporelle où le « mid-century modern » rencontre un esthétisme contemporain au sein d'une coquille victorienne dépouillée.